History & character of the festival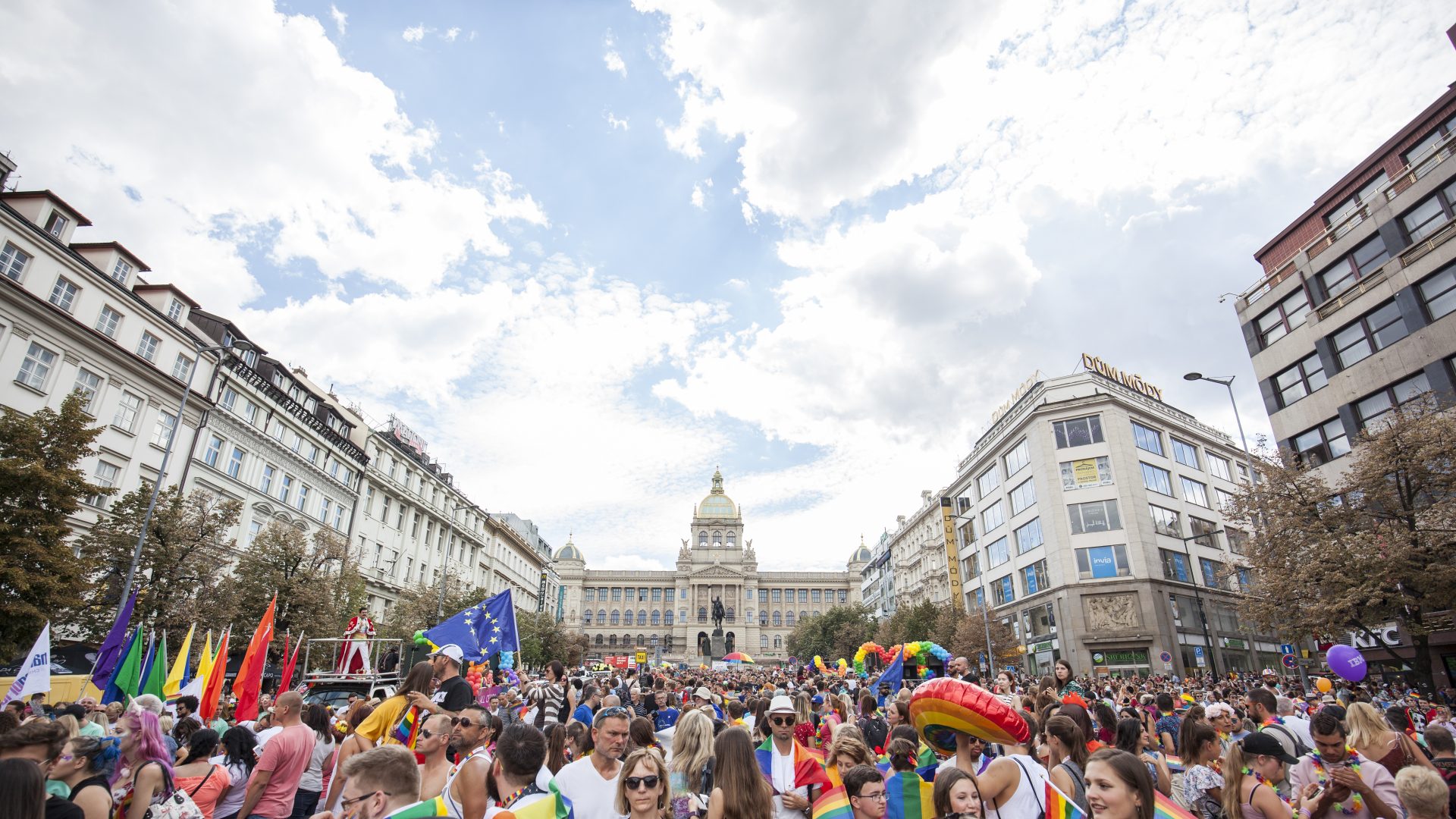 The Prague Pride Festival has been held annually every August since 2011. Nowadays, the festival is one of the biggest cultural events in the Czech Republic.
Prague Pride Festival – every year since 2011
The first edition of the Prague Pride festival took place in 2011. Before that, Pride Parades had already been held in several other cities in the Czech Republic, but no lasting tradition had been established. Prague Pride was about to change that. The first edition, which was in the form of a classic parade, was attended by about 8 000 people. Attendance has been increasing since then, rising to a pre-COVID-19 high of 40 000 people in the Saturday parade, with a total weekly attendance of about 90 000, the accompanying events included.
Pride Parade and 100+ events
The Prague Pride Festival does not consist of only the parade through the city. It lasts for an entire week from Monday to Sunday and there are some 150 different events taking place throughout. The rainbow-colored Pride Parade across Prague is its Saturday culmination. In 2020, we have replaced the parade with a Rainbow Cruise to comply with the preventive anti-epidemic measures. However, in 2022 the parade returned to the streets of Prague once again, with 60 000 attendees. In 2023, we expect similar amount of people to join the parade. Happy pride!
Among the classics of our festival are all kinds of lectures and discussions, film screenings, theatre and dance performances, talk shows, sporting events, spiritual meetings and, of course, entertainment in the form of concerts, parties or picnics. Many of the events we produce ourselves, others are the result of cooperation with dozens of our program partners.
Why August?
The Prague Pride festival takes place in the first or second week of August – making sure that the parade falls on the second Saturday of August. August was chosen for several reasons, despite not being the "Pride Month", i.e. June. This date allows us to avoid any overlap with the other major European Prides, preventing us from being unnecessary competition to one another. August is also the month of school summer holidays in the Czech Republic, which makes it much more convenient for schoolchildren and students to attend the festival.
International participation
In the past, we have welcomed for example the LGBT activist Omar Sharif Jr., the Austrian singer Conchita Wurst, the former prime minister of Iceland Jóhanna Sigurðardóttir, the co-founder and former chairwoman of the Dutch police network "Pink in Blue" Ellie Lust, or Europe's first elected transgender member of parliament – Italian Vladimir Luxuria.