Health and safety at the festival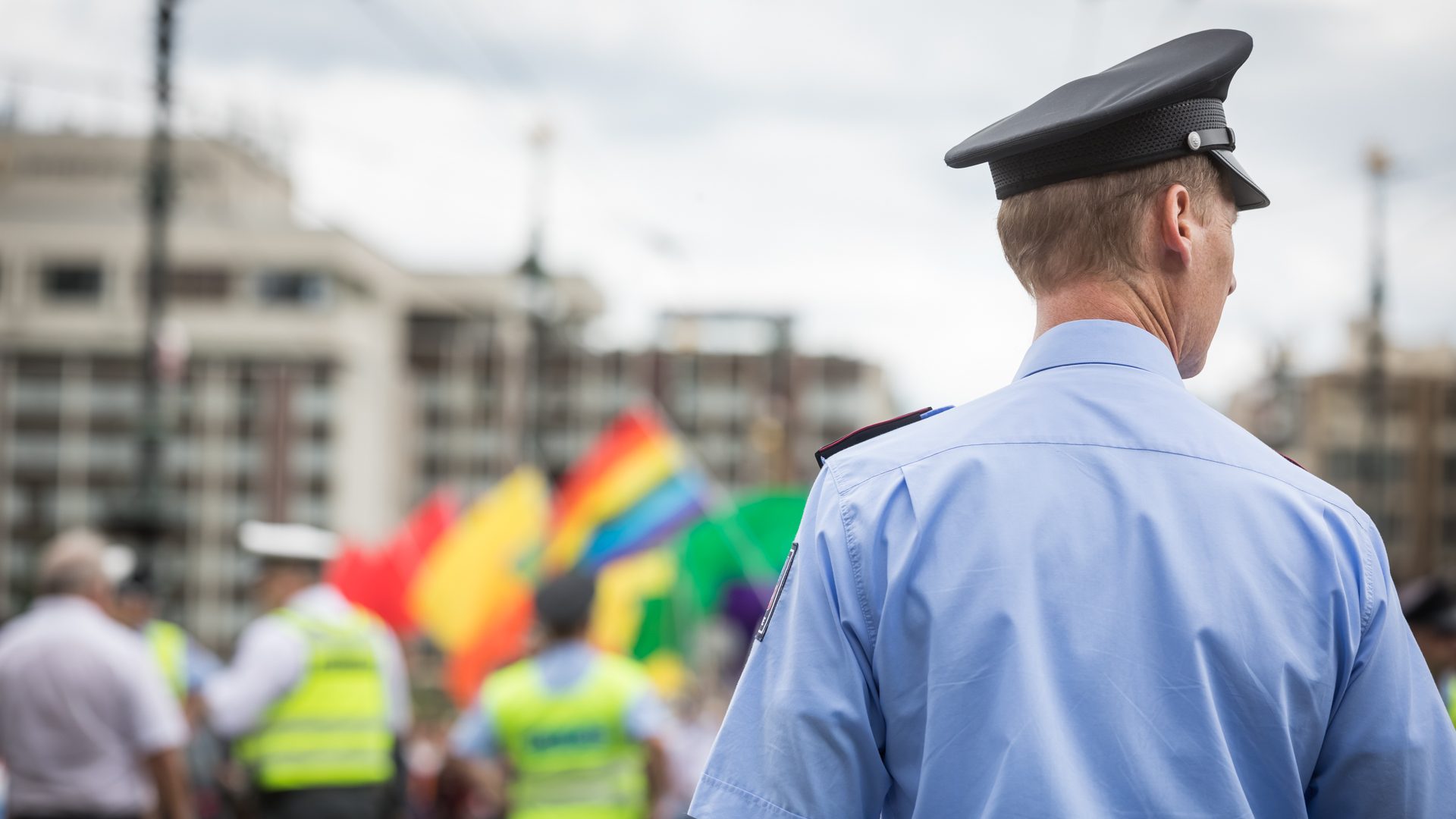 The safety of festival attendees is crucial to us. We cooperate with the police, security agencies and other institutions. Together they help us maintain order not only during the parade on Saturday, but also at the other festival venues as well as elsewhere in the streets of Prague.
Security cooperation has multiple levels and is established much earlier than the festival itself. We take safety very seriously, but we cannot share the details for strategic reasons.
If you meet members of the police or security agencies at any of the festival venues, please keep in mind that they are there to ensure your safety. Feel free to treat them in a relaxed and friendly manner but allow them to do their job – respect their instructions.
What to do and how to solve…
The most important rule is: always avoid conflicts. Never provoke a conflict, not even a verbal one. Don't argue and don't escalate the situation. Don't let yourself be provoked, just walk away.
Imminent danger or conflict
Immediately contact the police – call 112 (English-speaking operators guaranteed) or 158. The police have strategies and systems in place to help you as soon as possible and to resolve the situation with maximum efficiency and speed. Use this approach at the festival venues as well as outside the festival (for example, when you're going home from a club in the evening).
You can also approach the police officers present at the venues. In an emergency, shout "Help!" or "Fire!" – this will attract the attention of many people.
Non-emergencies
In case of a problem that is not an acute threat, please contact our team of organizers. All team members carry the official tags. You can find the organizers all around festival events, especially at the Prague Pride infostand (merch is also sold there), which will be located in Pride Village as well as in Pride Park.
Hate crime
If you encounter hate crime both inside and outside the festival, please report it. In dealing with hate crime, we cooperate with In IUSTITIA, a non-profit organization providing legal aid and specialized in this matter. Together we run the #OZVISE ("#DONTSTAYSILENT") project.
The effects of hate crime are serious. They affect mental health and foster a feeling of being under threat not only for the victim themselves, but also for other members of the group attacked. It doesn't matter if it's assault, verbal abuse, discrimination, online hate speech or any other instances.
In IUSTITIA helps victims of hate crime, which it also tracks. You can of course reject their help if you don't want it. However, in reporting incidents, you provide information that helps prove the prevalence of hate crimes. Using these statistics, we can push for changes in legislation that would provide better protection against violence targeting LGBT+ people.
Jak oznámit útok policii
Pokud se lidé rozhodnout osobně kontaktovat policii, doporučujeme, aby profesionální doprovod In IUSTITIA využili.
Oznámení útoku policii nemá konkrétní formu a může být podáno na jakékoli policejní stanici a v jakoukoli dobu. Poskytněte policii detailní popis události, včetně informace, proč se domníváte, že jste byli napadeni z důvodu své sexuální orientace či genderové identity. Požádejte o skrytí osobních údajů. Během vaší svědecké výpovědi může být na místě váš zmocněnec a důvěrník. Neovládáte-li český jazyk, máte právo na bezplatného tlumočníka. V případě online útoku poskytněte policii printscreeny útoků včetně URL adresy konkrétního útoku. V případě fyzického napadení se zdravotními následky poskytněte policii zdravotní zprávy.
Předsudečné útoky má význam mapovat. V současné době nemá Česká republika odpovídající oficiální data, problém homofobního a transfobního násilí je tak neviditelný a právní ochrana nedostatečná. Ke změně můžete pomoci i vy oznámením (i anonymním) prostřednictvím tohoto formuláře, fungujícího v rámci projektu Rise up #ozvise.
You can report hate crime
in Pride Village at the #ozvise stand throughout the entire festival week

on Saturday, August 12 at Pride Park in Letná at the info point near the #ozvise stage.
Monkey Pox