30th Anniversary of Johnson & Johnson's Employee Resource Group "Open&Out"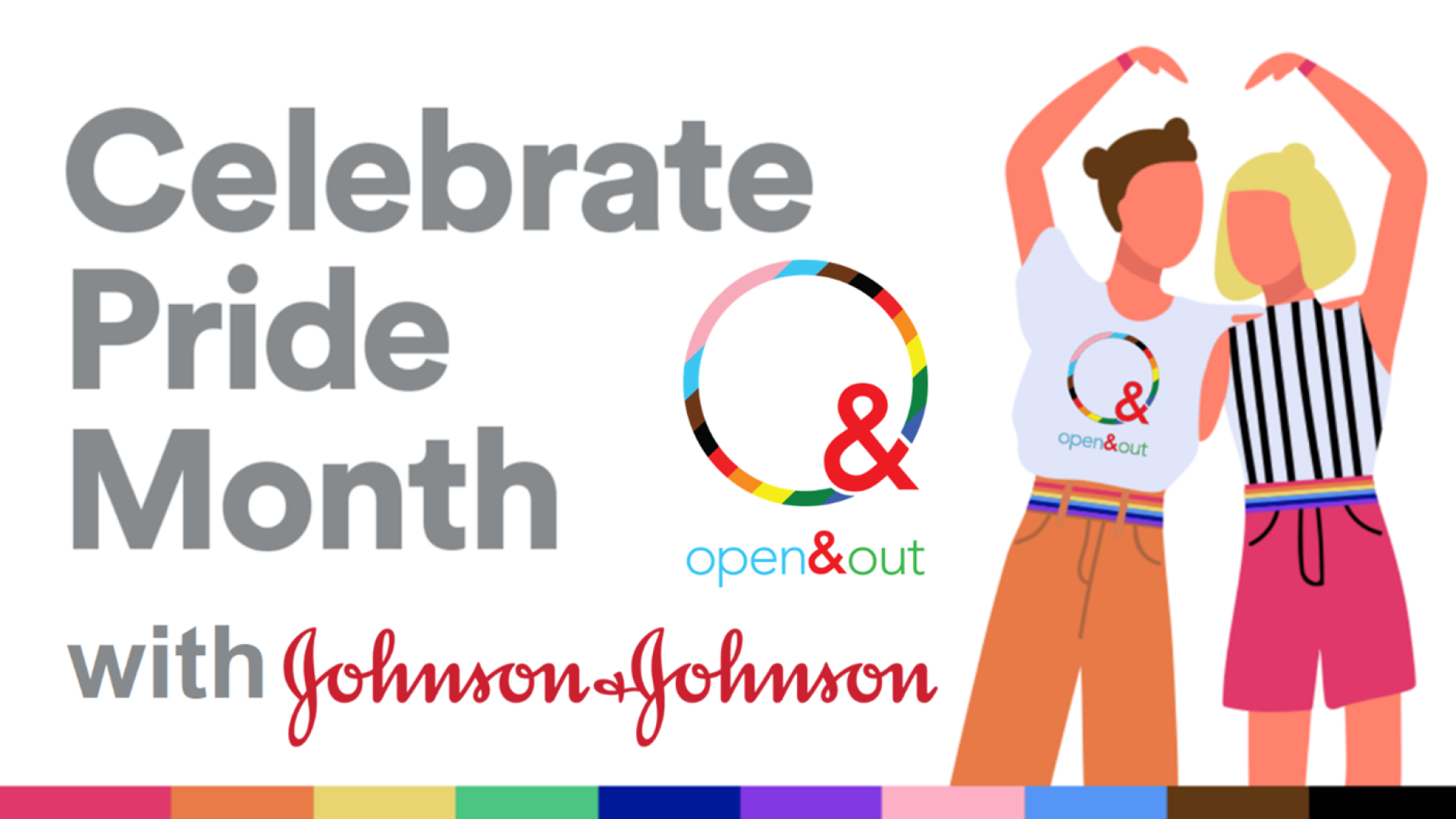 Through adversity and perseverance, Johnson & Johnson LGBTQIA+ employees have sought visibility in their personal communities and in the workplace. In 1993, approximately 20 colleagues came together in New Brunswick as a secret collective referred to as "The Glee Club." Over the years, this small, pioneering group grew from anonymity to an official company-sanctioned affinity group, and further evolved as an employee resource group. Today, Open&Out ("O&O") represents more than 5,000 employees and 104 chapters around the world.
Open&Out is a network of open-minded LGBTQIA+ and ally individuals out to make a difference by creating safe and inclusive workspaces, fostering healthier communities, and empowering our employees. Our anniversary theme of '30 Years Strong. Live Out. Live Proud. Live Together.' is an homage to the fearless efforts of those that came before us. It also serves as a promise to the thousands of LGBTQIA+ and ally employees around the world, that our history, our accomplishments, and our presence will not be erased. We will continue to show up as our authentic selves, be seen and heard, and support each other in our endeavor for diversity, equity, and inclusion.
We ensure our LGBTQIA+ employees can authentically express themselves; raise awareness about critical issues in the workplace and healthcare that uniquely impact our community; and create space for honest and open conversations that help us learn and grow together.
We also have strategic partnerships with advocacy and education organizations around the world to promote education and awareness as well as shape public policy. For example, we offer a robust talent development program and pipeline in partnership with our leadership. We are tackling health inequity through O&O LABS, a program in partnership with sector business leaders to achieve more equitable LGBTQIA+ health outcomes and build stronger business engagement with LGBTQIA+ patients and consumers. We acknowledge and celebrate commemorative dates in LGBTQIA+ history by activating our global O&O membership, our allies, and J&J as an organization. The global O&O community comes together on the following milestones: Pride Month; International Day Against Homophobia, Transphobia and Biphobia; Transgender Day of Visibility; World AIDS Day; and Spirit Day.
What are we at Johnson & Johnson proud of?
We are proud that Johnson & Johnson is widely recognized as a leader in LGBTQIA+ inclusivity inside and outside the workplace. We achieved 100% on the Human Rights Campaign's Corporate Equality Index every year since 2003 and was named Best Places to Work for LGBTQ+ Equality in the US, Mexico, and Argentina in 2022. We achieved 5 consecutive years of the GOLD Award on the PRIDE Index in Japan. Where possible, we support our LGBTQIA+ employees with inclusive health and benefits policies such as assistance with fertility treatments, adoption, and surrogacy to both heterosexual and same-sex spouses.
We offer transgender-inclusive health insurance coverage and provide same-sex partner benefits aligned with the Human Rights Campaign's Corporate Equality Index. We became a founding member of the World Economic Forum Partnership for Global LGBTQIA+ Equality (PGLE), an organization focused on implementing the UN Standards of Conduct on tackling discrimination against LGBTQIA+ people. We supported the HRC National Business Statement on Anti-LGBTQ State Legislation; passage of the Respect for Marriage Act.; and the Business Coalition endorsing the Equality Act.
In 2018, J&J was the first healthcare company to sign on to support the UN Standards of Conduct on tackling discrimination against LGBTQIA+ people and we continue to use this framework to evolve our policies and practices for LGBTQIA+ employees.
History of Johnson & Johnson's Open&Out chapter in Prague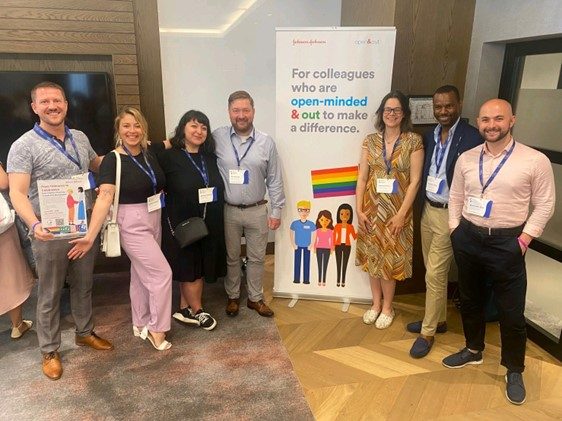 Johnson & Johnson's Open&Out chapter in Prague was established in 2018 by a small group of empowered employees, who wanted to make a change, foster a diverse and inclusive environment in the Czech Republic and start building a legacy for the future generations of our Johnson & Johnson colleagues. The same year the company proudly joined Pride Business Forum and Prague Pride organizations. Through continuous efforts, we aim to create and maintain a safe space for our LGBTQIA+ colleagues and allies, while also raising awareness about the issues they face.
Over the years, we have organized both internal and external events, dedicated to celebrating and commemorating important milestones. From enlightening discussions during Pride History Month or educating on the significance of the month of June and the Stonewall riots, to reflections on IDAHOBIT day, or addressing the current challenges faced by the LGBTQIA+ community in the Czech Republic and neighboring countries of Slovakia, Hungary, and Poland.
We are proud to be partnering with Pride Business Forum and attending their 2023 events, namely the executive cocktail at the US ambassador's residence in May and the annual conference "Taste of Equality" in June.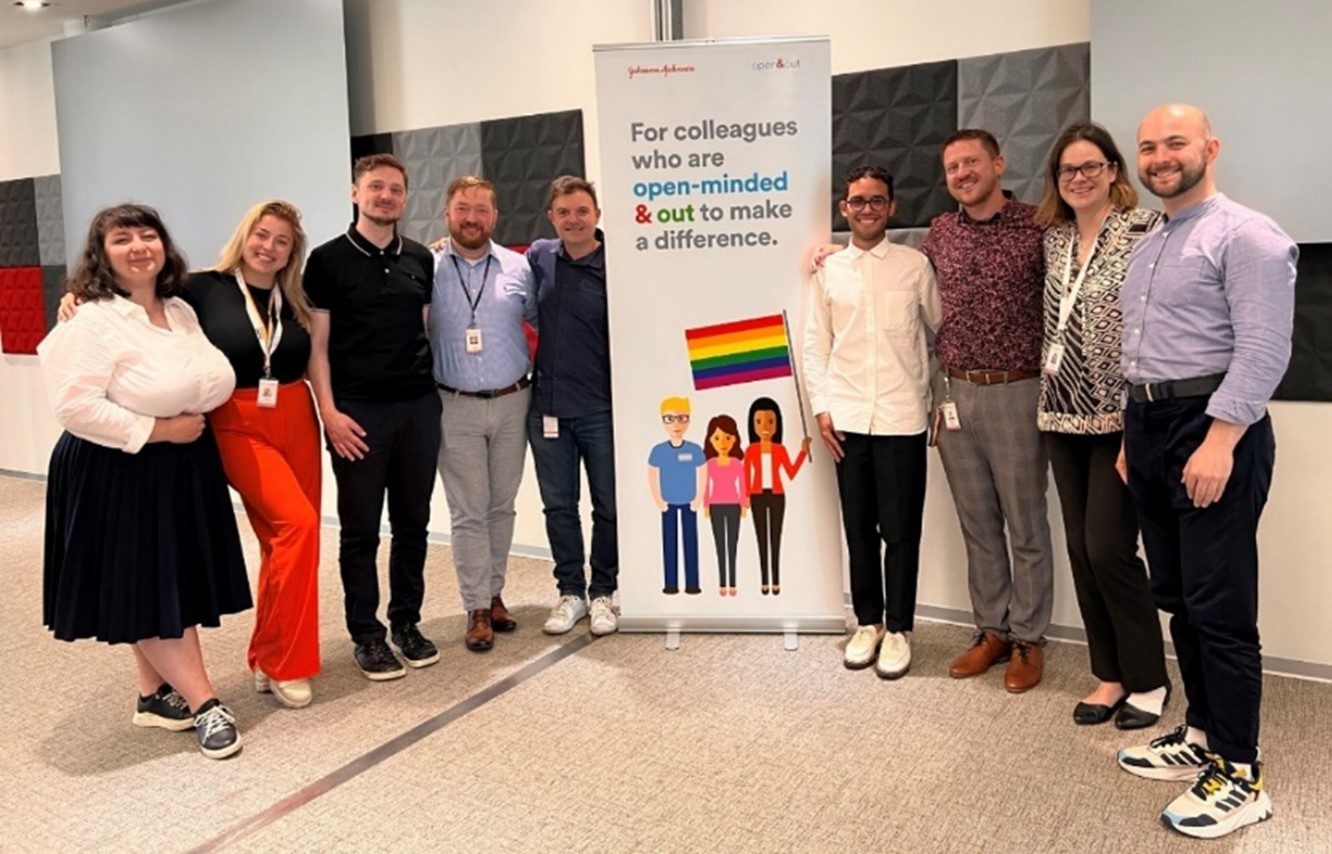 Open&Out OnePrague organized in June 2023 a workshop, called "FROM TOLERANCE TO CELEBRATION: HOW LGBTQ+ DIVERSITY TRANSFORMS WORKPLACES." This transformative workshop, which took place both virtually and in person at our "One Prague" office, was designed to provide participants with a comprehensive understanding of LGBTQIA+ identities, foster greater awareness of common microaggressions, and offer valuable insights through compelling employee storytelling. The event was hosted by Ales Rumpel from Pride Business Forum.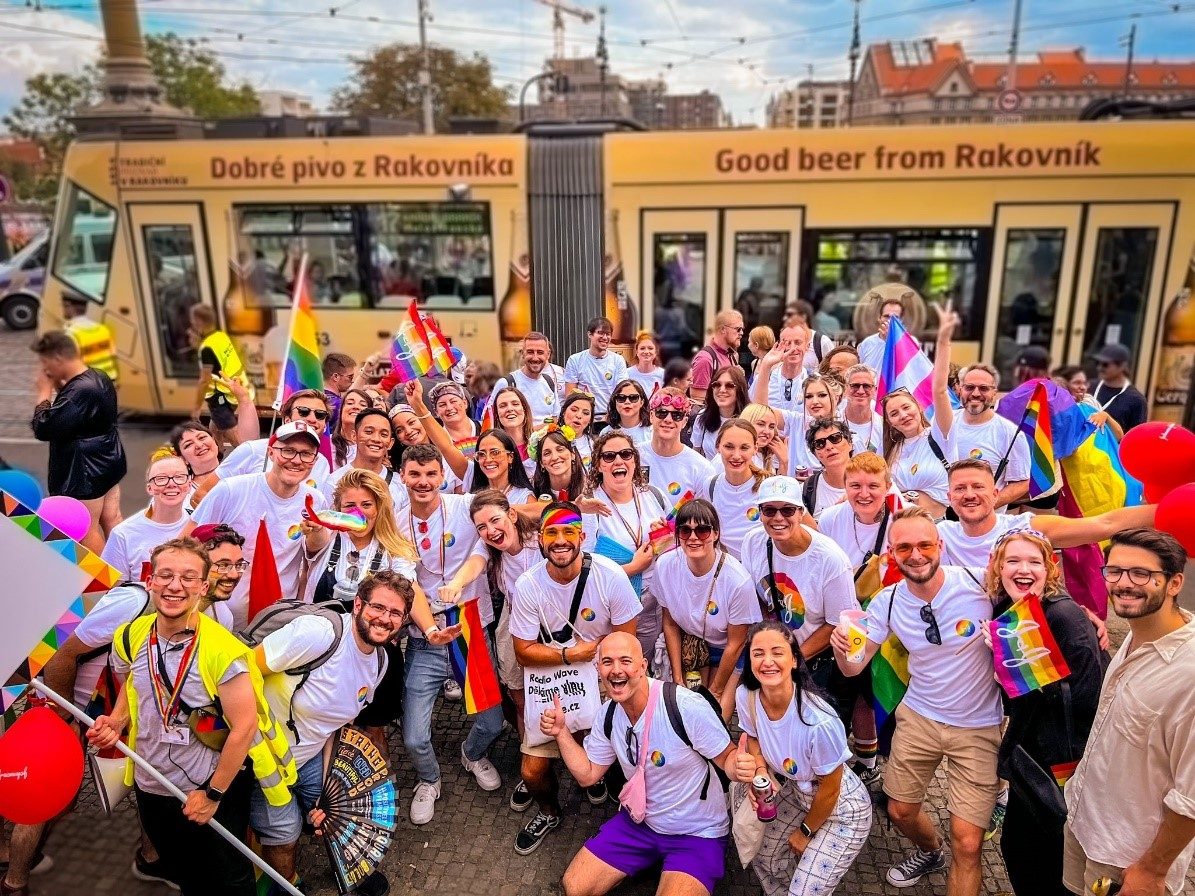 The main event of the year for Open&Out is the participation in Prague Pride parade, where attendance is through the roof, with over 100 J&J employees and their families who attended in 2022 and even more expected to join in 2023. The celebration and love shared during this day is unmatched and a joy to experience.
A staple for us as a Medical and Pharmaceutical company is the HIV awareness event which we are planning to hold in December 2023. The event will be led by a medical professional focused on removing stigma around the HIV/AIDS diagnosis and steps to prevent its spread.
Interview with the sponsor of Prague Open&Out chapter: Bohumil Riha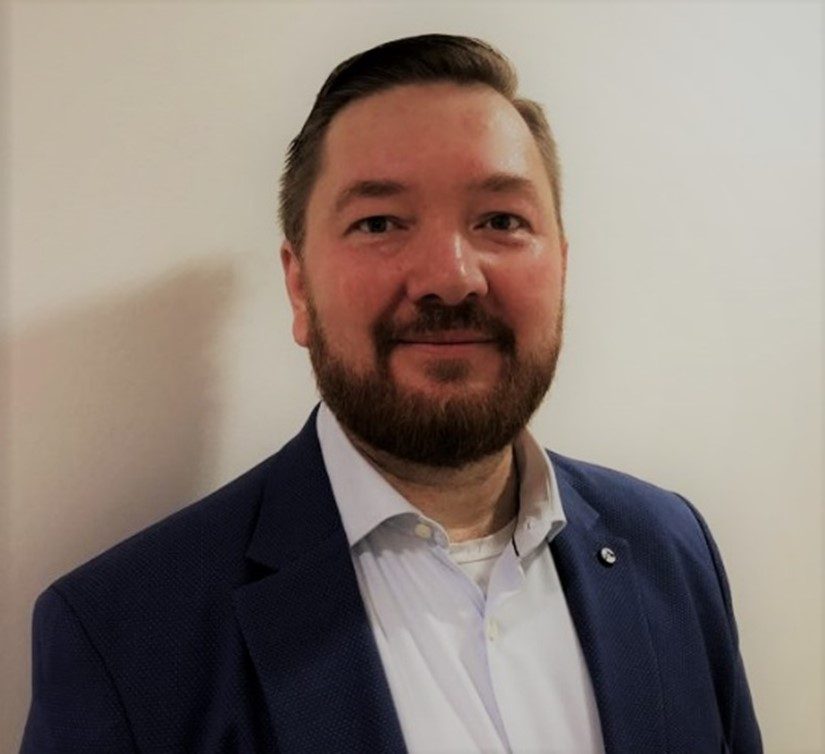 Bohumil is a highly accomplished professional with extensive experience as the Managing Director of Johnson & Johnson Global Services s.r.o. in the Czech Republic. Committed to fostering an inclusive and diverse work environment, he actively supports the LGBTQIA+ community through his involvement in the Open&Out initiative at Johnson & Johnson.​
Recognizing the importance of equal opportunities, he is deeply passionate about promoting diversity and inclusion, striving to create a level playing field for all employees. Drawing from a solid background in education and employee satisfaction programs, he consistently prioritizes the personal and professional growth of individuals under his leadership, prioritizing their overall well-being.
Bohumil is from a small village in South Bohemia close to Tabor where he lives with his wife Marketa, son Tobias and dog Max. In his free time, he acts in theatre plays, prepares community events in the village, and likes gardening around his house. Bohumil's other passions are traveling, cooking and languages.
What was your motivation to become the sponsor of Johnson & Johnson's LGBTQIA+ Employee Resource Group "Open&Out"?
I have many friends in the LGBTQ+ community and I am deeply passionate about equal opportunities for everybody. Although I can see that the situation in our society has changed over the years, I would like to see more actions taken towards achieving our diversity, inclusion, and equality goals. Working with our company's "Open&Out" Employee Resource Group provided me with a new perspective on the current situation in the Czech Republic and enabled me to see that we need more support to achieve real equality.
What do you personally see that corporate leadership can do to further improve diversity, inclusion, and equity at the workplace for our LGBTQI+ colleagues?
I would like to see corporate leadership speak about this topic, show examples where the challenges still occur and celebrate achievements, not only in the company but also externally in our society. Some people may feel that the topic does not concern them but equality concerns everybody. I strongly believe in changing the environment at least in our company but I am expecting that the senior leadership may aim to also change the society outside via attending different conferences, working with the other companies, and showing publicly the support of LGBTQI+ community.
Have you ever faced or witnessed any case of inequality demonstrated against an individual belonging to a minority group at the workplace and how was this situation dealt with?
I personally think that everybody has experienced such behavior, not necessarily at the workplace but for sure in our lives, especially during our childhood when such behavior may start. We need to understand that we are living in a safe space in a corporate environment, but the situation may be quite challenging in the outside world. My advice is not to close your eyes, speak up, try to find a way to support each other and most importantly aim to understand why this is happening. We should listen to each other and together facilitate the needed improvements.
Do you have any advice or a personal message to our Johnson & Johnson colleagues, the LGBTQI+ community and our allies about creating and fostering a more inclusive work environment for everybody?
Listen to your colleagues, attend the "Open&Out" events and open your mind to accept the fact that somebody is living differently than you assume.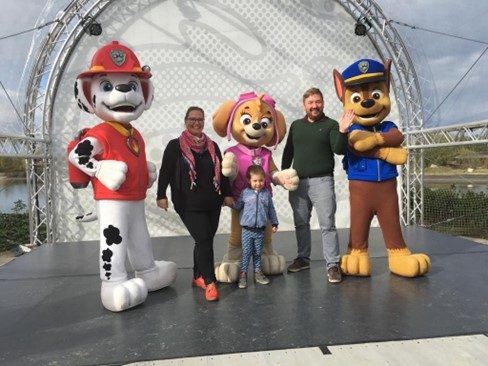 Join us in celebrating 2023 Prague Pride!