The area between the Milady Horákové street and the Letná Park.
170 00 Praha – Holešovice & Letná Metronome, nábř. E. Beneše, 118 00 Praha 7-Letná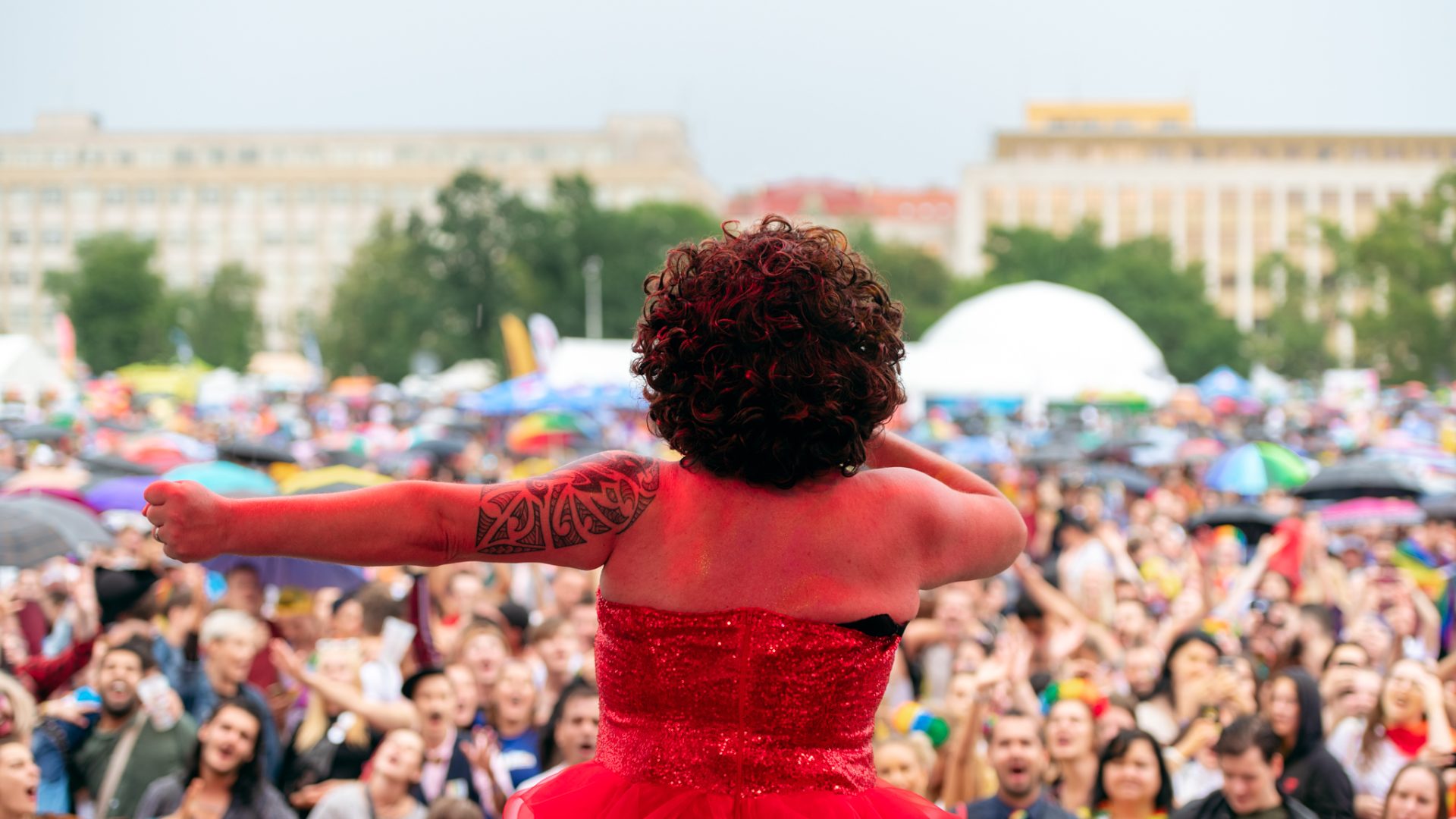 Stretch your legs in the grass, enjoy the sun, dance like never before and throw away all your worries. The parade on Saturday will culminate in Letná Park, where you'll be met with chill out zones, refreshments, six stages, the marketplace JarmarQ and, if the weather is hot, firefighters. Pride Park is accessible for free and to everyone. Choose the stage that suits you best, or rotate between them and discover new music. You'll surely find the friends you've lost in the parade or make new ones. Pride Park has a unique atmosphere that we look forward to every year. So dress up in rainbow colors and come enjoy it with us.

JarmarQ
JarmarQ will be a traditional market for nonprofits, complete with an accordion player. You will be transported into a picturesque village, where you will be reminded of various Czech holidays. Together we will erect a maypole, decorate a Christmas tree, a tractor will arrive, and a butter churn will be turned into a photo booth. My Sweet Little Village (of rainbows), it's going to be amazing!

VIP zone
A VIP-only bar, and a porta-potty with no queue and no unattractive contents. Enjoy the festival as if you were in a hotel lobby. In addition, by purchasing a VIP ticket, you will become part of our donor community and feel good about supporting the festival. Included in the ticket price are five drinks of your choice (beer, wine, soft drinks) and if that's not reason enough, a fully equipped bar and wine stand await you. And when you feel like you could use a little pick-me-up, a cup of delicious complimentary coffee will come in handy. The VIP zone can also be used for networking with other festival-goers* and festival partners.
What will you find in the VIP zone?
Comfortable seating – tables, chairs, beanbags, beach umbrellas

5 free drinks (beer, wine, soft drinks)

plenty of portable toilets and sinks cleaned regularly

a vanity corner with a mirror

VIP-only bar – beer, wine, soft drinks, mixed drinks

a Mühlberger Winery stand

a coffee maker with a choice of several types of coffee with free service

the possibility to buy refreshments right in the zone

storage lockers
Pride HideOUT
Enjoying Pride on Letná may be a dream, a wild ride, a break from the chains and an obliteration of conventions, but for those who want some peace and quiet, we have prepared a pleasant relaxation corner. During the festival week, you will find one here and another one in Pride Village at Střelecký ostrov. Stop by HideOUT, take a breather before the next dance, take a nap after a picnic with friends, stretch your legs after hiking up to Letná. You can chat or just hang out in complete silence, peace and calm. Regain your strength for the rest of the festival in a safe environment. You'll find us at the Party Harm Reduction tent.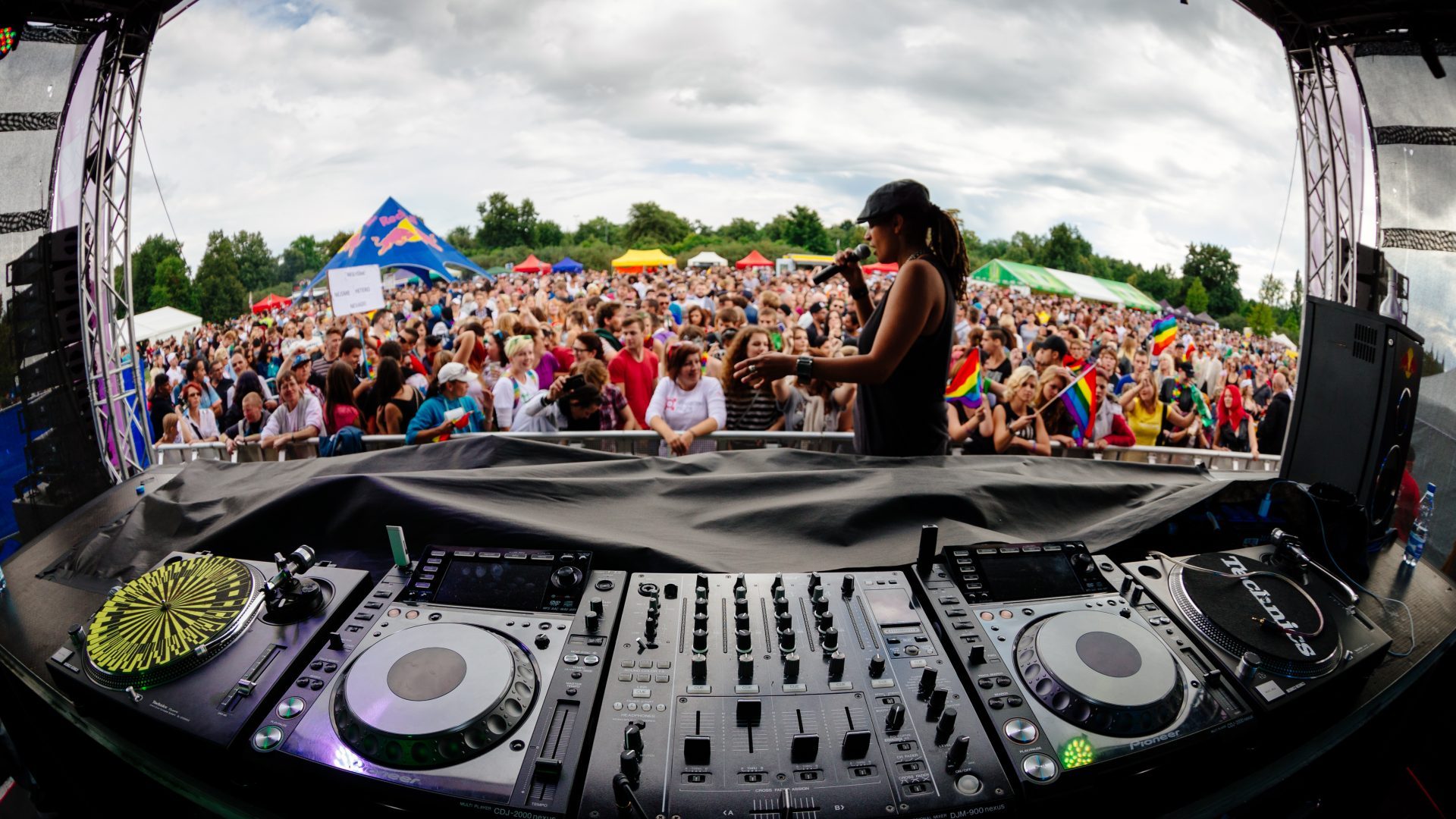 MUSIC PROGRAMME
RAINBOW STAGE powered by Vodafone

On the main Rainbow Stage, you will find international headliners. From 3 pm you will dance to the set of the Norwegian DJ Sindre, and then you will be treated to an incredible show by the trans activist, beatboxer and rapper Lia Şahin, who is coming from Hamburg, where she is involved in the Rap for Refugees initiative. Fans of R&B and pop will be in for a treat, too, as Spanish–Swiss visual artist and musician Laskaar will be coming onstage at 6 pm. Then we'll turn it up a notch and welcome to the stage Ragga Holm, the Icelandic rapper, radio host and member of the cult hip-hop band The Daughters of Reykjavík, accompanied by Steina. The culmination will be a performance by the successful trans singer and rapper known as Mavi Phoenix, who has received the prestigious Amadeus Music Award in his native Austria in addition to several nominations. Onstage, he will mainly perform songs from his brand new third album 'biggest asshole in the room'.
The stage will have interpretation into Czech sign language.
RED STAGE powered by Coca Cola
Find out what's new on the Czech music and drag scene and stop by Red Stage, where DJ Mary C, music project Black Tar Jesus, band Favorite Obsession, Prague-Russian four-piece band Homeoffice or queer-ally rapper Dominik Grey will perform. And to top it off, a unique drag show will light up the stage starting at 8 pm. Hosted by Finiji DarkAngel.
The stage will have interpretation into Czech sign language.
ORANGE (is the new black) STAGE powered by Ara Art
Listen to fantastic Romani musicians* not only from the Czech Republic, but also from abroad, and see a fashion show. The event is hosted by members of the legendary group Crazy Goddess.
YELLOW STAGE powered by Barclays
The motto of this stage is "emancipation through dance" and we can't wait to get Letná moving together. From 3 pm to 10 pm, Tasya, Hrrhrrrrhrrr, NCOL, Zey and New Magic Media will take turns onstage with their sets. Techno from Belgrade will be played, we will dive deep into our emotions and leave full of enthusiasm and with your t-shirts sweaty.
GREEN STAGE powered by Queer Help and Support
A showcase of the finest Ukrainian techno awaits you under the Metronome. Dance to sets by Gael, Vani Vachi and Little Vanya. Each year, Green Stage focuses on different countries. In the past we have visited Germany (Ixa, Killa Baba, Ena Lind and Sophie Ruston) and Poland (Oramics collective: Kitty Sarcasm, Amnesiac, Carolle Suss, Young Majli). Now it's time for the club scene of Ukraine.
BLUE STAGE powered by Red Bull
We're opening a new stage, because you can never have too many good DJs. Dance to the sets by Henriette and Vilém, DJ WhiteCat or Rufus Khan.