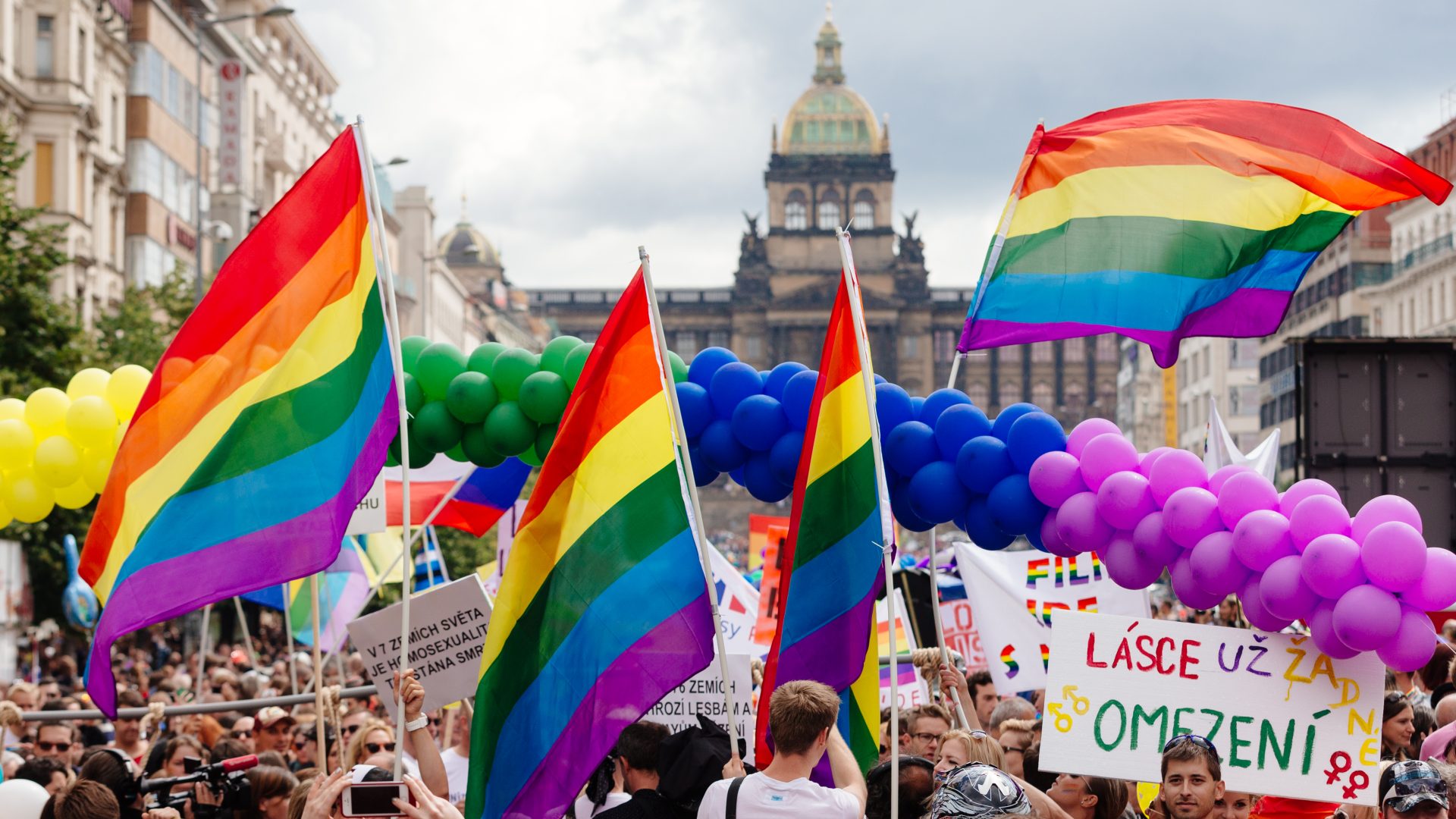 According to a study by Professor Flegr, there are more LGBT+ people in the Czech Republic than Moravians. Now then – what is traditional?

Pride is more traditional than you might think. Its tradition has been going on for more than 50 years, since 1969, when LGBT+ people first took to the streets of New York to defend their rights. Join us in taking to the streets in the legacy of our predecessors to let them know that we want to live in a world where equality and respect are core values. Maybe we'll tear down a few oppressive traditions and start some new ones along the way.

PS: Traditional and folk costumes are welcome in the parade!
We'll have a stage at Wenceslas Square. So come on time
We will meet at 11:30 in the lower part of Wenceslas Square. While we line up, DJ Jan Witek will be playing on the Wenceslas Square stage, so the atmosphere will be wonderful from the start. Jan will also take on the role of a host and give you all the important information about the parade itself.

At our booths, you'll be able to make your own last-minute sign to carry in the parade, sign the petition for marriage for all and get your make-up done at the make-up booth. And if you're still feeling not quite rainbow enough, you can top it off with a purchase at the Queer Shop stand.
We will set off around 12:30.
Parade route
We'll walk down Na Příkopě Street, turn into Celetná Street on Republic Square (náměstí Republiky) and then go all the way to Old Town Square. We'll continue through Pařížská Street, over Čech Bridge (Čechův most) and up the stairs to Letná Park and onto the plain. That's where you'll find Pride Park – 6 stages with a music program, lots of stands with not just food and drinks, and a great atmosphere up until 10 pm.
Several SKY STAGEs with music and moderators will hover over your heads like a guardian angel, ruled by Her Majesty Cuntessa Garbage. She will get your blood pumping and introduce the lineup of the parade in her own way. No sinner will escape her keen eye, so you better watch out. WARNING: She's got confetti and she's not afraid to use it. Eco, of course. 😉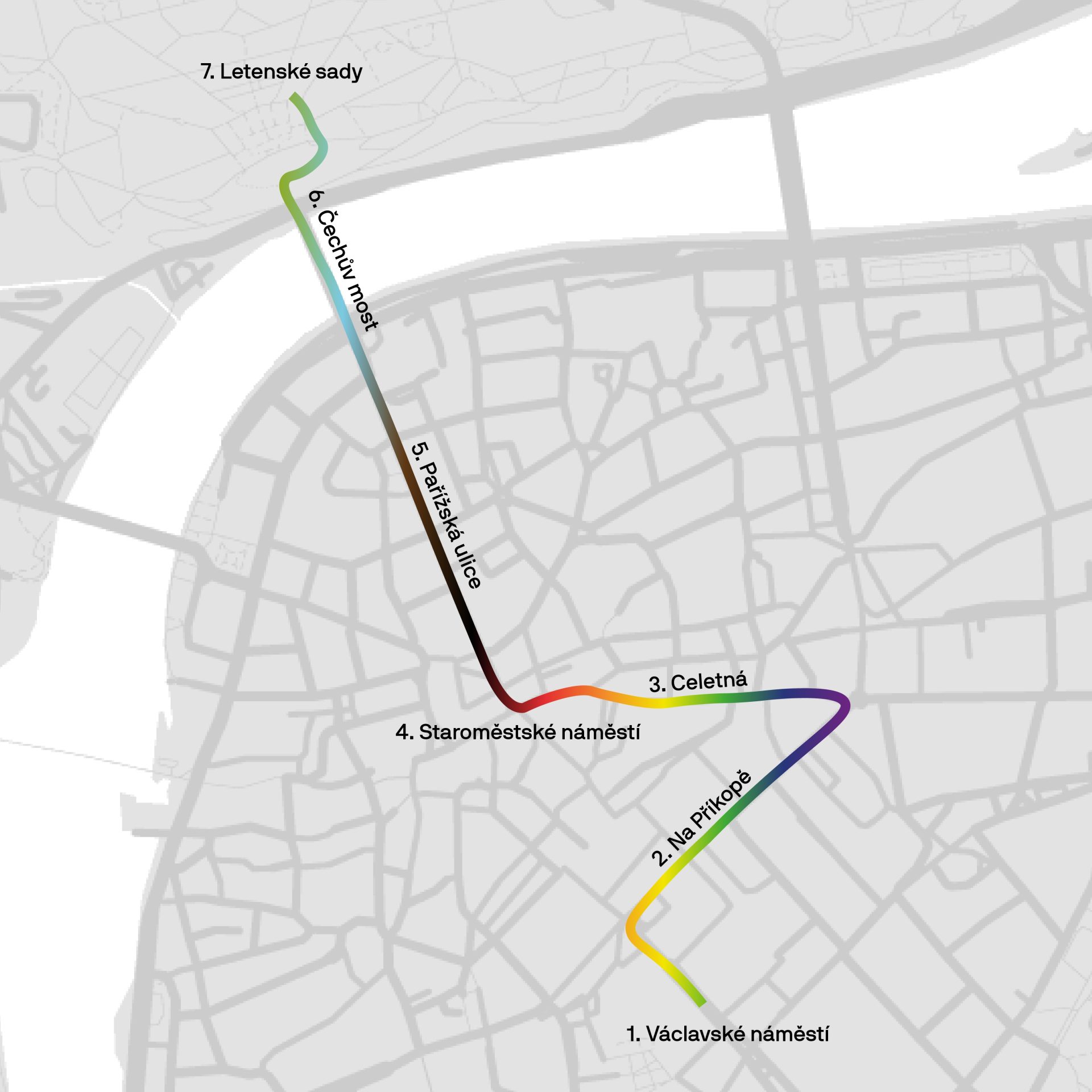 Sustainability and safety first. But the music must not be missed
Music is a traditional part of Pride parades around the world. Last year, the master carpenter got a little carried away and the music wasn't heard enough. But as we continue to try to accommodate the city's scenery, safety precautions and the demands of an age that removes cars from downtowns rather than bringing them in, we continue to establish a new tradition this year. Thus, a total of 7 stages await you in the parade, which will provide its sound system.
You can look forward to the main stage on Wenceslas Square, the royal balcony with the moderation of the unmistakable Cuntessa, four sky stages – loud high-lift stages with DJs, and our Green Stage on Stalin will play as you climb the steps of Letná.
Take your traditions to the parade
Join us to continue the legacy of our ancestors and say that Pride is a tradition and together we want to build a tradition of equality and respect. Bring your traditions, wear clothing that relates to your region or your customs. Make banners and say what traditions you want to live with.
Bus to Letná (accessibility)
We will help anyone with reduced mobility get through the last part of the route. A barrier-free bus will be waiting at the bottom of the stairs to Letná for those with reduced mobility. You will find the bus stop on the left after you cross the bridge. The bus will drop you off at Špejchar, and from there, you can take a level path directly to Pride Park.
Practical information
It may not seem like it, but the centre of Prague can get really hot in the summer. Remember to protect yourself and bring plenty of water, headwear and sunscreen. Please have raincoats ready in case of rain, but leave your umbrellas at home. They can easily become dangerous in a parade full of people. Health supervisors will be on site, do not hesitate to contact them. If you find yourself in a situation that you do not know how to handle, please contact our organizing team in reflective vests, the representatives* of the Czech Police or call 112. Toilets are accessible in the metro station under the square.
Line-up of registered groups in the parade
Of course, anyone can join the Prague Pride Parade. However, below you will find a list of large groups (partners of the festival, non-profit organizations, embassies, etc.) that have responded to our open call in advance. These groups will, among other things, help you to navigate the parade more easily.