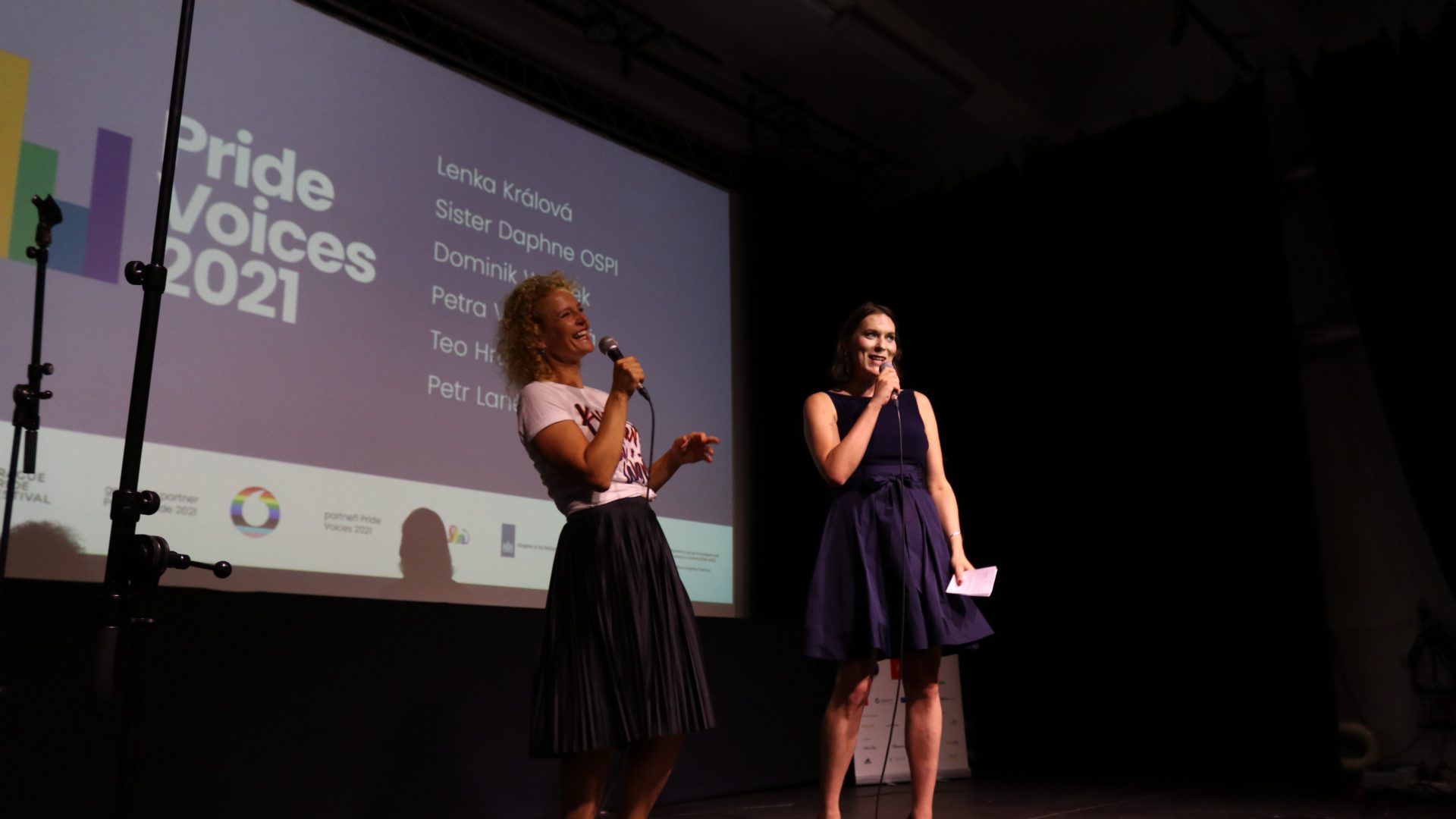 Pride Voices is an inspirational talk show full of emotions and traditional part of the Prague Pride festival. In 12 minutes, five queer personalities from Ukraine, Belarus, Poland, Germany and the Czech Republic will share experiences that are very close to their hearts.
ING is the main partner of Pride Voices.
Host: Ondřej Moučka – Chairperson of Ollove in Olomouc, volunteer at the Prague Pride Community Centre and helps with trans* refugees from Ukraine for Trans*parent CZ.
Sergii Shchelkunov,

Ukrainian civil activist, coordinator of public campaign #SaveZhovten, now a teacher in Arctic Canada.

Ridina Ahmedová, 

singer and musician, runs voice workshops, the author of the podcast and author's performance Sádlo, and platform My Body is Mine.

Miki Herrlein,

education consultant* for the diversity department in Archdiocese of Freiburg and a team member of the #outinchurch-campaign

Igor Shugaleev,

independent actor and performer, graduate of the Belarusian State Academy of Arts.

Julia Maciocha,

Chairwoman of the Equality Parade (Warsaw Pride), LGBTQIA+ activist, feminist, animal scientist.
Sergii Shchelkunov (UA/CA)
Sergii graduated in Linguistics: Mandarin Chinese and Chinese literature at Taras Shevchenko National University of Kyiv. He supported and participated in both revolutions that have happened in Ukraine. Sergii got involved in the public campaign #SaveZhovten that lobbied for the successful renovation of the landmark cinema Zhovten, destroyed by an ultra-right arson attack during the LGBTQ+ program Sunny Bunny of the Kyiv international film festival Molodist. Then he was part of the movement of urban activists advocating for the sustainable development of Kyiv. Sergii was forced to leave Ukraine and found a new home in Canada where he continued his education. At the moment he lives in Arctic Quebec — Nunavik and works as a teacher of English and Social Studies at the local high-school.
Ridina Ahmedová (CZ)
Ridina Ahmedová doesn't know exactly what her profession is, because she does a lot of things that overlap, empower and it's all chaos, but it's fun. For a long time, she considered herself primarily a singer and musician – she devoted herself to jazz, then she performed solo for years, and now she is part of the award-winning duo HLASkontraBAS together with Petr Tichý – nominated for the Anděl Award 2016. She has collaborated with a number of musicians, e.g. Floex (CD Pocustone), Vladimir 518 (CD Gorilla vs Architect) and many others, she was invited as a guest to Bobby McFerrin's concert in Prague and sang a duet with him. She has contributed to the music of many theater performances and several films. She also initiated and runs the Zpěvomat project, which takes place in a number of Czech cities and provides the general public with the experience of singing as a natural activity that can bring joy regardless of their practice or talent.
Recently, her original performance Sádlo ("fat") and the podcast of the same name on Czech Radio Wave have generated a lot of buzz. At this point the podcast has over 250,000 downloads and the numbers are still growing. The project Sádlo has been nominated for the Czech Theater DNA Awards. In response to the storm around the topic of Sádlo, she founded and runs the platform My Body is Mine. She runs voice workshops for the public, and particularly enjoys working with people who think they can't sing.
Miki Herrlein (DE)
Miki Herrlein is non-binary and was born in 1980 in Frankfurt (Germany). Miki studied Roman languages and catholic Theology in Frankfurt, Freiburg and Munich. Miki works as education consultant* for the diversity department in Archdiocese of Freiburg and as a team member of the #outinchurch-campaign. Miki is officially listed as prout performer (Prout performer makes role models visible, who make a substantial contribution for equal opportunities of lesbian, gay, bisexual, trans*, inter* and queer persons at work, more at www.proutatwork.de. Miki lives with their three kids and partner in nearby Freiburg.
Igor Shugaleev (BY)
Igor Shugaleev is an independent actor and performer, a graduate of the Belarusian State Academy of Arts. As a student he became interested in performance practices, physical and dance theatre. He participated in workshops of contemporary dance, partner work, performance organized by leading teachers from the countries of the former USSR and Europe. As a performer in the Karakuli Dance Theatre and Korniag Theatre projects, he participated in several dance festivals in Europe and in the countries of the former USSR. He has collaborated on various occasions with TOK Theatre (Minsk), HUNCH Theatre Belarus. Since 2019, Shugaleev began working on solo projects. In collaboration with artists across creative disciplines, he seeks his language of artistic expression at the intersection of dance, theatre and performance. He emigrated from Belarus to Kiev, Ukraine in 2020 and has been living and working in the European Union since 2021, alternating between Poland and Germany.
During the Prague Pride festival you can also see Igor Shugaleev performing as an dancer with his piece Ich heiße Frau Troffea: 12/8, 9pm, Pride Village.
Julia Maciocha (PL)
Ondřej Moučka (CZ)
Ondřej has been involved in various forms of activism in the field of LGBTQ+ education and human rights since 2015, when he started volunteering with the Ollove in Olomouc. Since 2017, he has been leading Ollove and has held a number of events in Olomouc. After moving to Prague, he started helping as a volunteer at the LGBT+ Community Centre and also with trans* refugees from Ukraine for Trans*parent CZ.
Na Prádle Theatre
Besední 487