Pride Afterpicnic in Village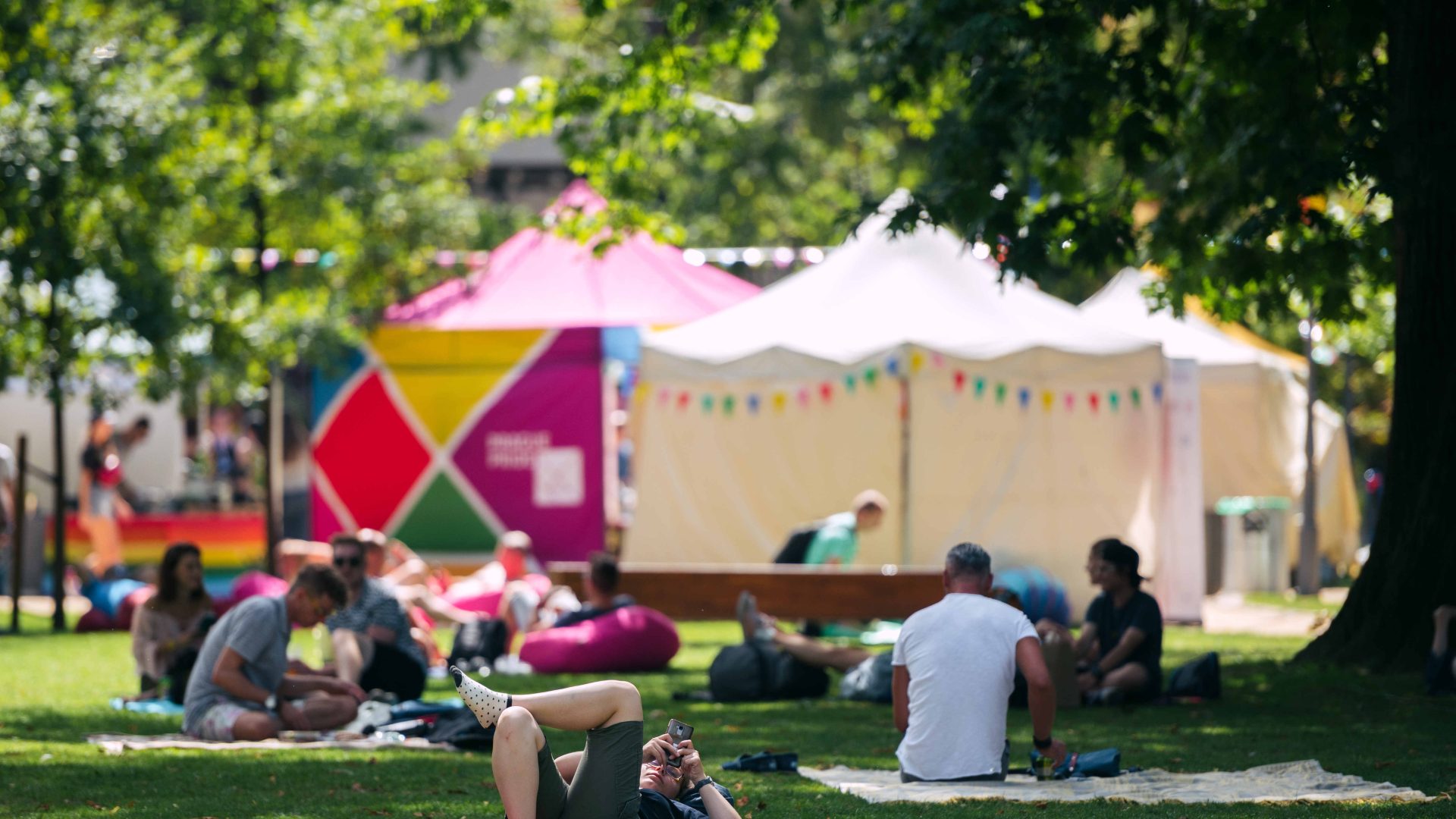 Forget your hangover remedies, the menu from our rainbow picnic will get you back on your feet after the Saturday night party. Meet your friends, eat and relax. There'll be sweet, there'll be savoury, there'll be non-alcoholic, and for the adventurous, there'll be alcoholic. Enjoy the last day of Pride before we say goodbye for another year. You can play along – we'll set up an interactive Jukebox.
From 12:30 you will play yourself on an interactive jukebox, but then luxury DJs and musicians take over.
The Sunday afternoon picnic and the evening in Pride Village is hosted by Jan Witek.
Muňeki77a (AG)
Viktor Palák (CZ)
Valentina Sandoval (CZ, AG)
Never Sol (CZ)
SLIPY (CZ)
12:30 | Jukebox
13:30 | Muñeki77a
Muñeki77a (Buenos Aires based) is the alter ego that Naomi Preizler invented during quarantine to create a new disruptive sound that mixes punk with nu metal, hyperpop and trap music playing between the opposite concepts of darkness and innocence, terror and sweetness, creating that way a piece full of irony and dark humor that empowers women and goes against cocification and machism. Lyrics that go from mental health to explicit empowering are consumed by a teenage audience between 12 and 25 years old. She got well known within the latin audience in 2019 after her viral song "Fama de Puta" (whore's reputation) that suprasses 5 millon views in YouTube and by social media and alliance with TikTok in which she has more than 300k followers that follow her for her unique musical and visual style and her experiences as an international fashion model and puts her as one of the most disruptives argentinean artists nowaday. With her studies in multidisciplinary arts both in New York and Tokyo, where she has lived as a model, Muñeki77a does her own art, makeup and costumes of her own audovisual productions inspiring thousands of teenagers. She has performed at festivals such as Lollapalooza Argentina, Virtual Burning Man and will perform at Primavera Sound Argentina this year. She has also opened shows in Buenos Aires for Dua Lipa, Zara Larsson and Pussy Riot. She has had many nominations with her singles and EPs for the Gardel Prizes in Argentina, and has been the international image for Converse during 2019 among Milly Bobby Brown and other artists.
14:00 | Viktor Palák (CZ)
Viktor Palák is the co-author of Modeláři show on Radio Wave, but besides hard guitars he also loves Years & Years. In music he explores its darkest corners with gusto, but he still loves to bring contemporary pop to Prague under the banner of Fource Entertainment. For the Karlovy Vary IFF he selects experimental films in the Imagina section, and for the Summer Film School he selects musicians and musicians who accompany silent films.
16:30 | Valentina Sandoval (CZ, AG)
Valentina Sandoval is an Argentinian musician based in Prague. With her songs, she invites you to let yourself go on dreamy melodies about love and poetry, mixing up rock with alternative pop.
Valentina will be presenting her album with a full band, performing with musicians Pablo Rulos on the guitar, Roksan Mandel on keys/synths, Guillermo Acosta on the standup bass and Adam Urban on drums.
17:30 | Never Sol (CZ)
Melancholic layered synth soundscapes, dreamy melodies shrouded in tons of reverb and thick yet delicate vocals. Melting in ambient surfaces but cuts deep by distorted and noisy elements. A strong connection to song writing, intricate chord progressions, synths and voice are the cornerstones of her musical output.
Never Sol released two studio albums, 'Chamaleo' (2018) and 'Under Quiet' (2013). In 2014 Under Quiet was re-released by a German experimental label Denovali Records. She participated at the Tokyo edition of Red Bull Music Academy, performs with the project FLOEX and also works in composition and sound design for contemporary dance performances.
19:00 | SLIPY (CZ)
DJ duo SLIPY was established before a year with intention to bring club electronic music to the crowd. Slipy consist of Viki Valda and Michael Koko, who can be seen for years on Prague queer club scene. At their regular event in Patra, Krymská, Slipy bring every month their choice of electronic music from ranging from club house, tech-, progressive up to the techno. Slipy seem to like deep music as same as vocals, and they really like to avoid commercial music. Throughout the night the flow between music styles and the beats won't let you sit calm in the corner.