HIV testing – free, anonymous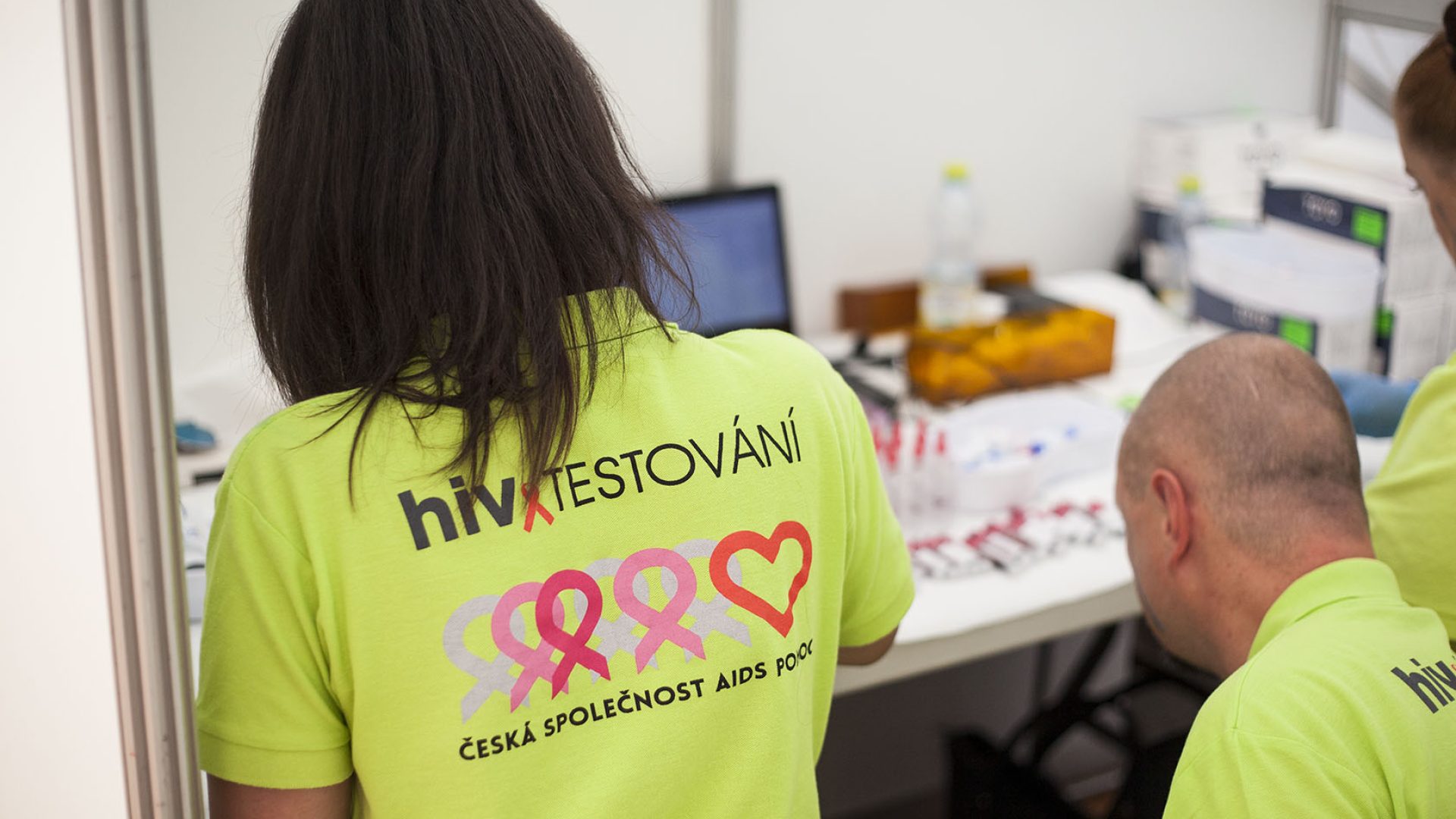 Of course, Prague Pride includes free and anonymous testing for HIV and also for syphilis and jaundice type B and C. Use the opportunity to find out your HIV status!
How it goes
Before performing the rapid test itself, pre-test counseling always takes place in the form of an interview. To speed up the testing process, you can complete the pre-test questionnaire in advance online, either in the comfort of your home or on your phone comfortably seated in the festival's loungers. You can find the questionnaire at https://www.hiv-pomoc.cz/dotaznik?lang=en. When it's your turn for the test itself, you'll just tell the consultant an unique eight-digit code that the system generates when you submit the questionnaire.
The testing is completely anonymous. Noone will ask your name, the medical staff uses only identification numbers (you'll need to remember yours). The staff is also absolutely discreet and professional. There is no judgement, they already have heared everything.
The Czech AIDS Help Society asks: Please, wear a respirator inside of the testing tent to protect you and the staff from covid. Thank you!
Sexually very active individuals should take a test every 3 months, especially if they fail to follow the principles of safe sex. The diagnostic window, i.e. the time from infection to the formation of antibodies, is usually 2 to 3 months long.
Don't be afraid of the test result. In most cases, today's medication can provide HIV+ people with the same quality of life as before infection. However, it is necessary to start the treatment as soon as possible after getting the virus.
Mobile venereology clinic with PrEP counselling
This year, the Czech AIDS Help Society will also add a mobile venereology clinic with a PrEP counselling where you can be tested for other STDs such as gonorrhea and chlamydia. These tests are covered by the Czech health insurance, so they are not anonymous. Here, the staff will ask for your name. You will wait at least an hour (depending on the number of people interested) for the results.
The venereology clinic will be located in Pride Village on Střelecký ostrov and will be open Mon-Fri 17:00-20:00.
Organizer: Czech AIDS Help Society
The Czech AIDS Help Society (ČSAP) was established at the end of 1989 as an initiative of friends and families of HIV-positive citizens. An important milestone in our activities was the construction of the House of Light social and asylum center at the end of the 1990s. Since then, ČSAP also offers free anonymous testing. The organization implements AIDS counseling and free anonymous testing for HIV antibodies in Prague, Brno, Ostrava, Olomouc, Teplice, Ústí nad Labem, České Budějovice, Hradec Králové, Ústí nad Orlicí and in a mobile counseling center in an ambulance.