Festival venues at a glance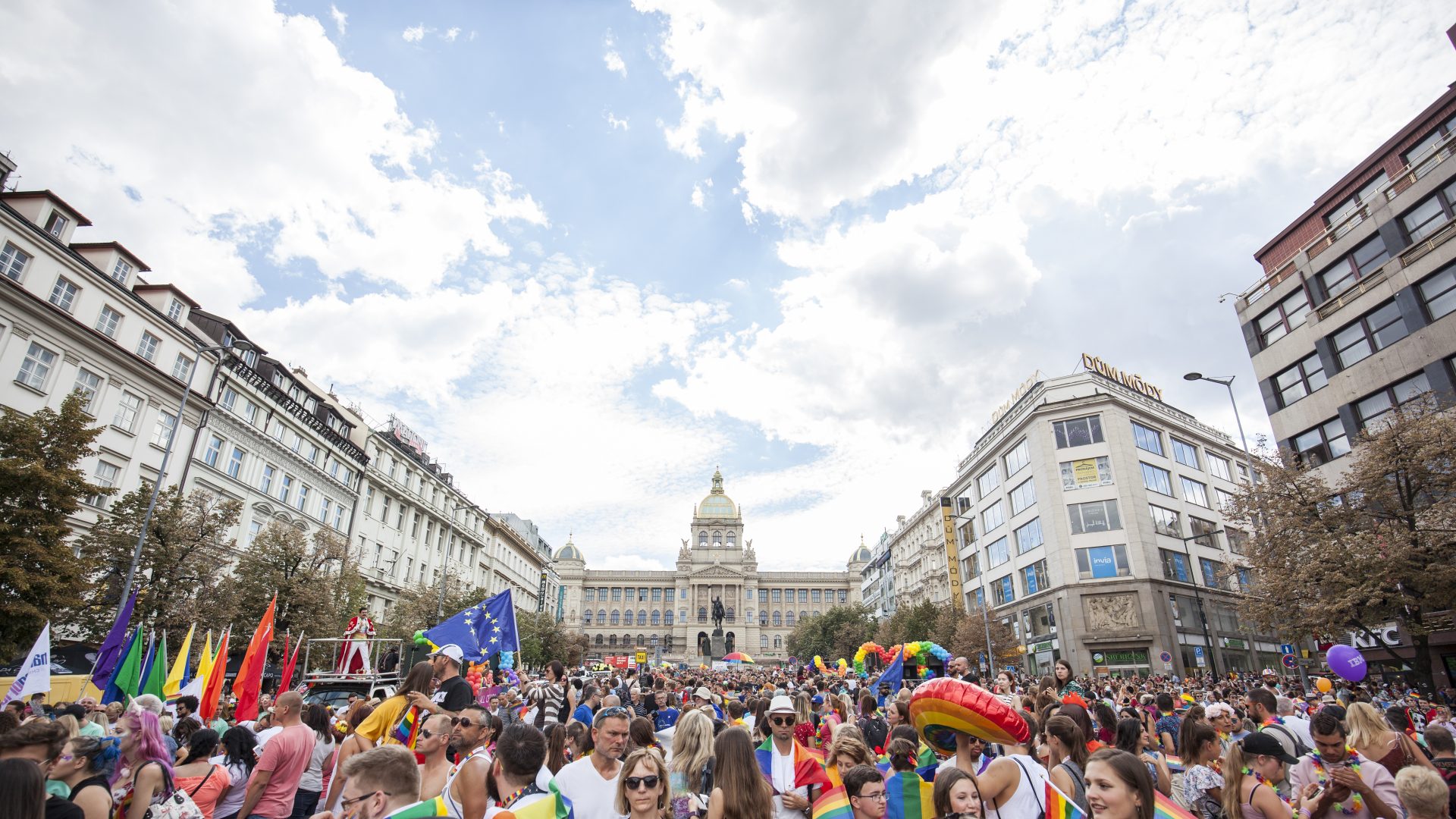 Do you wonder, where all the Prague Pride events are located? There are dozens of places all around Prague with various events, however the official festival venues are listed here.
Pride Village
| | |
| --- | --- |
| Monday 8/8 (Festival opening) | 6 p.m. – 10 p.m. |
| Tue 9/8 – Fri 12/8 | 3 p.m. – 10 p.m. |
| Saturday 13/8 | closed |
| Sunday 14/8 | 12 a.m. – 9 p.m. |
It just wouldn't be the right summer without the festival village on Strelecky Island. Here you will find performances, concerts, DJs, chill-out zones, sports, refreshment stands, workshops, picnics, information stands of various organizations and rental of blankets, games and sports equipment… But above all, great company, summer comfort and freedom! In short, the Střelák is the heart of the entire festival.
Pride Village is a place you can visit almost during the entire festival. At one end you'll find a stage with various music and other performances, in the middle there are booths with refreshments or official festival merchandise, then a large grassy area with trees that invites rolling and picnicking, and at the end of the island, at the so-called tip, booths of non-profits and other organizations.
Pride House
Pride House runs from Tuesday till Friday. One of the most important festival venues, Pride House, moved to Střelecký island this year! It is literally a few steps from Pride Village. An atmosphere of respect, acceptance and well-being is a matter of course in the House. In the house program, you will find queer lectures, discussions, projections, theatre and, above all, daily discussions about the situation of LGBT+ people in our neighboring countries. In order to have enough space for everything, we will complement the two halls that are in the building with a large tent in front of it.
Sub-venues:
Big hall – directly in the Pride House
Small hall – directly in the Pride House
Workshop tent– an outdoor tent to the left from the Pride House entrance
Accessibility: Střelecký ostrov (Střelecký Island) is accessible by a barrier-free elevator. There are also barrier-free paid toilets on the island. The building of Pride House is unfortunately not barrier-free. All events in the workshop tents are barrier-free accessible.
Pride Life
Pride Life runs from Tuesday till Friday. The headquarters of ŽIVOT 90 on Karolíny Světlá street turns into a place full of rainbows during the festival! The festival program will take place not only in the local hall of the Theater by Valšů, but also in the smaller Dřevák hall and in the garden.
Meetings, debates, talks, lectures, workshops… Pride Life is a place where we focus on the topics of health, life, family and community. The program is great for everyone who wants to learn something new and think a little during Prague Pride.
Pride Café
Centre of People in Need organization Langhans, Vodičkova 707/37, 110 00 Prague 1 – New Town
Pride Café is open 11 a.m. till 9 p.m. on weekdays, 1 p.m. till 7 p.m. during the festival weekend. Where to sit with excellent coffee during the festival? To the Pride Café after all. You will find it slightly hidden in the Langhans center in Vodičková street. In addition to coffee throughout the festival week, there will also be exhibitions of queer art, which of course also includes openings, which you can also look forward to in this venue. In short, Pride Café is the ideal place for everyone who likes to sit down with a cup and soak up the culture.
Pride Park
Whether you come with a parade or take to Letná on your own, this year you will enjoy a world-class queer programme in Pride Park. We have five music stages with a varied music programme for everyone to choose from, and one community stage for those who are not too keen on the stage.
The programme on the stages is just the tip of the iceberg. As at any festival, Pride Park has plenty of food and drink. There's beer, soft drinks and no shortage of bars with drinks and liquers. If the hunger strikes, it can be satisfied with both salty and sweet.
In addition to refreshment stands, there will also be a number of infopoints of non-profit organizations, associations and other institutions on Letná. So don't forget to visit them and pick up some life advice or at least some badges for your backpack.